Daughter of Smoke and Bone by Laini Taylor // Book Review!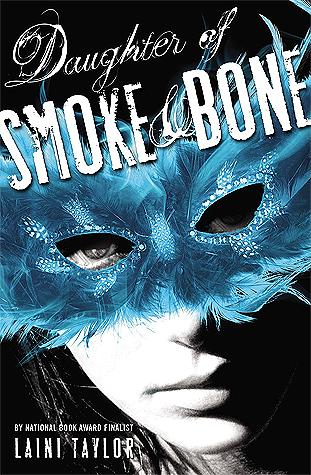 Title: Daughter of Smoke and Bone by Laini Taylor
Rating: ★★★★★
Release: 27th September 2011
Synopsis: Errand requiring immediate attention. Come. The note was on vellum, pierced by the talons of the almost-crow that delivered it. Karou read the message. 'He never says please', she sighed, but she gathered up her things. When Brimstone called, she always came. In general, Karou has managed to keep her two lives in balance. On the one hand, she's a seventeen-year-old art student in Prague; on the other, errand-girl to a monstrous creature who is the closest thing she has to family. Raised half in our world, half in 'Elsewhere', she has never understood Brimstone's dark work – buying teeth from hunters and murderers – nor how she came into his keeping. She is a secret even to herself, plagued by the sensation that she isn't whole. Now the doors to Elsewhere are closing, and Karou must choose between the safety of her human life and the dangers of a war-ravaged world that may hold the answers she has always sought.
Review:
If you're looking to start a series that will keep you addicted for weeks on end, look no further because this is the answer!
First off, the cover of this book is absolutely stunning! It caught my attention as soon as I saw it, and the inside definitely lives up to the outside! I was caught up from the start, and was instantly impressed at how wonderful the writing was. It felt so poetic and everything was so beautifully written and described I felt as though I could feel and see everything that Karou was seeing.
I loved the characters, and in particular how strong minded Karou is. She is so dedicated to her little family and her friends, and it was so nice to see a character so brilliantly written. This book is set in Prague and that is definitely something that stood out for me. Not only did it allow for some beautifully written world building, but also it's such a rare country for books to be set in, that it was a brilliant breath of fresh air to the genre.
The overall idea behind the book was so well thought out. I've always loved books about angels, but the way that angels are portrayed in this book is so unique. They have their own sense of right and wrong, and it's nothing like I've read before.
The relationship between Karou and Brimstone is perfect. It brought a tear to my eye many times, because of how their father/daughter relationship felt so unbelievably real. It can be rare to have such a strong bond in such a short number of pages, and Laini did it with such finesse. The use of Karou's wishes was also so unique, and the idea that they are used as a gift exchange for Karou's birthdays is so wonderful.
The ending left me completely shocked. I felt every single emotion and immediately dived into the next book because I was so desperate to see what happens next!
A beautifully written, magical book filled with wishes, heartbreak and a world you'd love to live in. This is definitely one of the best books I have read, and I wish I had gotten to it sooner!
You can buy Daughter of Smoke and Bone on Amazon UK here!