Turtles All the Way Down by John Green // Book Review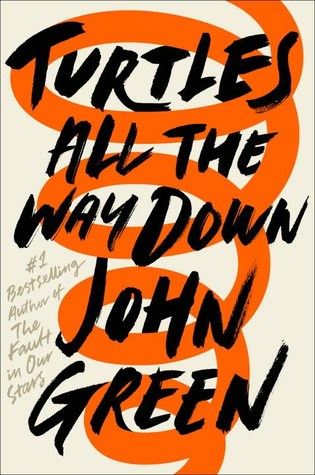 Title: Turtles All the Way Down by John Green
Rating: ★★★★★
Release: 10th October 2017
Synopsis: Sixteen-year-old Aza never intended to pursue the mystery of fugitive billionaire Russell Pickett, but there's a hundred thousand dollar reward at stake and her Best and Most Fearless Friend, Daisy, is eager to investigate. So together, they navigate the short distance and broad divides that separate them from Russell Pickett's son, Davis. Aza is trying. She is trying to be a good daughter, a good friend, a good student, and maybe even a good detective, while also living within the ever-tightening spiral of her own thoughts.
Review:
One of the most beautifully written books, with a wonderfully accurate mental health representation. It really is the book that the world was in desperate need of.
After five years out of the limelight, it was a shock to hear that John Green was back with another book, but a shock that was met with great excitement. It definitely lived up to it's hype.
This book was absolutely beautiful from start to finish. It can be so hard to write a book portraying mental health, as it can be very difficult to do the portrayal justice, but John does this perfectly. I was brought to tears with how honest it was, and couldn't stop writing down quotes as I read because I wanted to remember them all.
Aza's character was so true, and raw and I really liked that about her. I loved how she was never made to be someone she wasn't and the truth behind her spiralling thoughts was so clear, it was written extremely well. How her relationship with her family, and her friends is portrayed is brilliant, and at times left me in tears for everything she had to go through.
I did think the story of the billionaire going missing was sometimes a little distracting, and at times didn't need to be included as the main story was about Aza and her battle with her mental health, but saying that it was such a clever way of writing it in, and at times did add extra depth to the story.
The writing style of this book honestly brought tears to my eyes. It's been such a long time since a book moved me in the same way that The Fault in Our Stars did, but John Green has done it yet again.
This book is beautifully honest, and has one of the best mental health representations I've ever read about. John Green is definitely back, and he has come back with an absolute masterpiece.
If you weren't sure whether to pick this one up, I definitely cannot recommend it enough. It is hands down one of the best books I've ever read.
You can buy Turtles All the Way Down here!