The Federation Has Arrived! Interview with Author James Grea
Everyone has a love for superheroes, no matter your age. Book lovers around the world love reading about the wonderful adventures they go on, and this is where James Grea shines. As a horror lover, and talented author, it was no surprise that James did a wonderful job at uncovering the world behind The Forgotten Federation. I got the chance to interview him about this exciting new novel and explore the genius mind behind the writing.
Me: Tell us about yourself!
James: I was born, and still live, in Knoxville, Tennessee. I began making up stories at a very young age. My mother was a master storyteller and loved to tell us ghost stories in a dark room with candlelight, so she was my inspiration. I began writing in school, mostly poetry and short horror stories. I started my first book, Haunting Thelma Thimblewhistle: The Chronicles of Dead Anna in 2003. I started it again a year later, and two additional times in 2005. I had to develop a rhythm to writing, something that allowed me to develop and construct a beginning, middle, and an end. I finally grew into a method of writing in 2007, and completed Thelma in December of that year. After growing accustomed to my process, I really fell in love with writing novels. To date, I have published four novels and have more on the way!
Me: That's so amazing! Describe The Forgotten Federation in 140 characters (If you can – I know it's a hard one haha!)
James: A geneticist battling a tyrannical government struggles to edify teenage guardians born from the ashes of heroes called the Federation. (That's 136 😊).
Me: Wow, I'm so impressed! What inspired The Forgotten Federation?
James: I am a HUGE DC Comics fan. I am also an avid comics and action figures collector. Superheroes have always been a part of my life, so I couldn't wait to create my own. I wanted to create characters that had never existed.
Me: I love that so much, your characters are so brilliant. The setting of the book is a world very much dictated by its harsh leaders. How did the you create such depth within the world of the book? (I felt like I was living in the world with the characters – it was amazing!)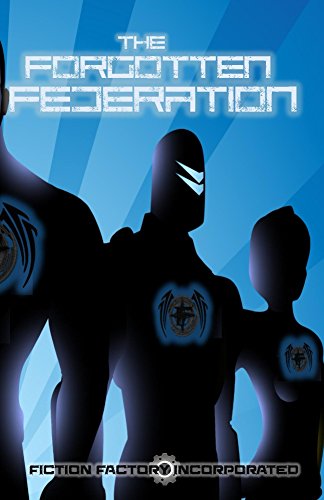 James: I think casting my stories before writing them help create depth and detail. Once I had my base plot and primary characters, I cast them using actors I enjoy. This allows me to visualise everything in great detail…even facial expressions. It becomes quite real to me.
Me: You do such a great job at immersing us in the story, it's nice to hear that's the same for you! Where did the idea come from for each superheroes power?
James: Well, as you could imagine, trying to develop a superpower that neither DC or Marvel had come up with was hard…impossible, as a matter of fact. So I had to use the DNA foundation of each power to add originality to it. This, along with each character's dynamic personality, helped me create something I felt was original.
Me: That's so clever! Superheroes are very popular at the moment, who is your favourite superhero? (From anything, not just out of TFF! Mine is Doctor Strange or Wonder Woman!)
James: Wonder Woman has to be one of my favourites ever! I adore her. Have you seen the movie? It's incredible. I love her and, of course, Batman. 😊
Me: I have seen the movie, it's so amazing! What was your favourite part of writing TFF? What was your favourite part of the book?
James: Still, my favourite part of the novel is when Quinley's first discovers his powers while crashing in a jet. It was such a realistic chapter for me, so much so I think I was shaking when I wrote it. I blazed through the chapter in no time and had to read it several time to really absorb the power of it.
Me: That's one of my favourites too! you could have one power of the Federation, which would it be?
James: I would LOVE to have wings!
Me: Yes! Me too! You write so much, so what inspires you to write?
James: You know, that's a good question. I think it's when I imagine a character. I'll think of a cool story-line and who the main character would be. What do they look like? How do they behave? Do they have a nervous tick of some kind? What is their smile like? These things inspire me. It somehow breathes life into this character, this person in my mind. After that, it feels like I may allow them to die should I not bring them to life on paper.
Me: That is such a beautiful a answer. There are some brilliant messages within the novel, so what message do you hope readers take from TFF?
James: Hope. Never stop fighting. Good wins. It may take a while, so long you may believe it's gone forever, but's it's always there. Like ambers of a fire.
Me: So very true, hope is one of the most important things we can have! So, did the story develop as you wrote, or did the idea for the book come to you fully formed?
James: Well, I used to go into crazy-detailed outlining for books. So much so that it bored me. It felt so technical, so false. So, these days, I will go into a book with the beginning, the middle, and the end. I develop my main characters, and start writing. The rest falls into place like an unknown adventure. There are dozens of twists and turns that I know nothing of until they spill out on the page.
Me: The plot of the book is very unique, but were you inspired by any other authors?
James: I am forever inspired by Stephen King and J.K. Rowling…these are my two favourite authors. In some ways, I try to blend their styles – the magic of Rowling along with the character depth and eeriness of King. I love their voice, their style. I love the way that Rowling develops her story, and I also love the way that King gets you involved with his characters. Hopefully, I pull it off!
Me: I agree, these authors are so inspiring and wonderful! King is one of my all time favourites too! What advice would you give to university students, if they're going through a rough time (like the Federation did! But maybe not in the same way!)
James: Remember that life is nothing more than a journey, a tour with many stops. Some destinations are dreary, others are amazing. Always go forward knowing that another destination is before you. But if you don't board the train, you'll never get there.
Me: Such a meaningful message, thank you so much for that! What are your future plans? Can we expect more Federation books? (I hope so!)
James: Absolutely! As a matter of fact, I knew the next story before I finished the last chapter of the first book. And it's going to be wonderful.
Me: Yay! I can't to see what's next for the Federation! Thank you so much for your time, and for this interview!
James: It's been a pleasure!
There we go! That's my interview with the extremely talented James Grea! His books are available now to read, you won't regret it!
You can find more about him, his books and the powerhouse that is Fiction Factory Incorporated, at his website here!
You can also follow him on Twitter @FictionFacInc!